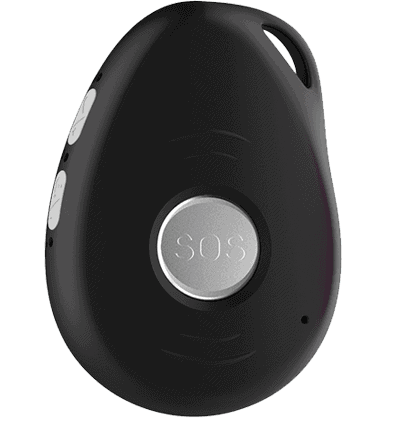 Personal alarms give peace of mind and a sense of security to lone, remote or workers in high risk environments.
Nominated emergency contacts can be at ease knowing their co workers, friends, family or contractors can summon help at a moments notice should they feel threatened, in danger or have been injured.
Its an instant, invaluable communication tool in the event of an emergency.
Its a device that could save a life. Call 911 with the single press of a button.
Personal Safety Alarm
A one-button SOS lone worker alarm is a personal alarm device that allows a person working alone to quickly call for help in case of an emergency or dangerous situation. The device typically has just one button, which the user can press to activate the alarm and send a distress signal. Some benefits of a one-button SOS lone worker alarm include:
Simplicity: The one-button SOS design makes the device easy to use, even in stressful or high-pressure situations.

Quick response: With the ability to quickly send an SMS distress signal to up to 10 nominated contacts including 911, response times can be improved in the event of an emergency.

Increased safety: A one-button SOS Personal alarm allows a lone worker to call for help quickly and easily, providing an increased level of safety.

Peace of mind: Knowing your employees have a way to quickly call for help can provide peace of mind for lone workers and their employers.

Cost-effective: The cost of a one-button SOS Personal alarm is relatively low in comparison to the cost of an accident or injury to a lone worker.

Lightweight and portable: Our one-button SOS Personal alarms are small, lightweight and portable, making it easy for lone workers to carry them with them.
Get help when you need it with a large central SOS button. When button is pressed it immediately sends SMS & GPS location  to your nominated emergency contacts (up to 10) The device can then be programmed to start calling out or wait to automatically answer incoming calls.
Number of nominated emergency contacts
Up to 10 contacts can be programmed including emergency services such as 911 in North America, 999 in United Kingdom & 000 in Australia (not available in all countries – check with your local services for more advice)
Contact Police with a Panic Alarm that can call 911 with the single button press. This personal safety alarm is ideal for anyone who may need 911 in an emergency. Simply press the SOS to automatically connect to 911

This sends an SMS alert when the device detects a rapid fall or significant impact.
Geo-fencing 
Geo-fencing works by setting up a virtual invisible fence. When the device crosses this invisible fence, the device sends an SMS alert to the nominated contacts.
Device automatically send last known GPS to nominated contacts during emergency activation.
GPS Tracking – This is designed to track the device (or user). Can be done via SMS or connect to 3rd party online live tracking to silently locate the device.
Effectiveness of GPS location depends on environment and can be reduced by tall buildings, underground carparks and being inside a building/dwelling.
Uninhibited view of sky is important for the communication and GPS to work properly. Device needs to be in a clear, outdoor area for most accurate location results.
Man down / No-movement alarm
This alerts the nominated contacts if the device has not moved for a specified amount of time.
Speed alarm
If the device starts moving faster than the predetermined maximum speed,  it alerts the nominated contacts.
Battery & Magnetic charger
Battery lasts 48 – 72 hours on a single charge depending on users settings. Takes approximately 3 hours to recharge. Simple and easy to connect magnetic connections so you can be sure it's charging.
Reception
USA – 4G AT&T, T-Mobile

Canada – 4G Rogers, Bell,Telus,Tbaytel,MTS,Sasktel
Australia – 4G Telstra
New Zealand 4G One 4G Spark 4G 2Degrees

NOTE – USA CANADA – Other SIM cards may be able to be used. Comparable SIM cards must use B2,B4,B12 (4G)

NOTE – EUROPE/UK – Other SIM cards may be able to be used. Comparable SIM cards must use  B1,B3,B7,B8,B20 (4G)

Please check with your local cellular carrier to see if their SIM cards work on the correct frequencies or visit here for an updated list of possible carriers.